Expert Insulation Removal in North Atlanta
Eliminating damaged insulation is sometimes a necessary part of an attic energy upgrade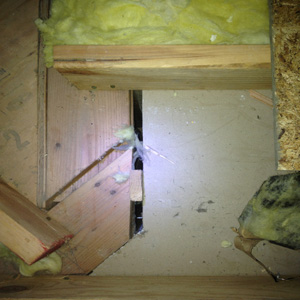 Damaged insulation in the attic can be caused by a number of things, like water, moisture, pests, and more. Air leaks are often a result of damaged insulation or insulation that hasn't been properly installed. Either way, air leaks contribute to poor energy performance and decreased comfort. At Dr. Energy Saver by Arbor Insulation Solutions , we use special equipment to remove damaged insulation.
Everyone knows that insulation helps a home to be more comfortable and more energy efficient. But many homeowners are surprised to learn that insulation can sometimes do more harm than good. Insulation provides the best long-term performance when it's not disturbed. Unfortunately, the fiberglass and cellulose insulation used to insulate many attics can be disturbed, which makes it vulnerable to different types of damage.
At Dr. Energy Saver by Arbor Insulation Solutions , we use special equipment to remove dirty, damaged insulation. An extra benefit of insulation removal is an attic space that's free of unwanted debris. Our high-powered vacuum sucks all kinds of unwanted debris from your attic space, including loose nails, paper, pest feces, wood scraps and short pieces of electrical wire.
Our insulation experts can remove old, damaged insulation and properly install new insulation that will ensure maximum energy efficiency and comfort year round. We specialize in attic insulation and have experience installing blown-in, cellulose, radiant barriers and rigid foam insulation in North Atlanta homes.
Not sure if inadequate insulation is what's causing your home energy problems? By scheduling a home energy assessment with Dr. Energy Saver by Arbor Insulation Solutions we can diagnose your home's energy deficiencies and come up with a plan for improvement. Contact us to schedule a home energy audit in North Atlanta.
Why remove old insulation?
Unlike the insulation installed in your walls, attic insulation remains exposed in an unfinished attic. Depending on what happens in the attic, this insulation can be damaged in different ways. If any of the damage described below has occurred in your house, call Dr. Energy Saver by Arbor Insulation Solutions today for a free insulation removal estimate in Georgia.
Water damage. Any type of "fluffy" insulation –like fiberglass batts, blown fiberglass insulation and cellulose insulation—is susceptible to water damage. This can occur because of a roof leak or because of excess humidity and condensation in the attic –two very common problems. In rarer situations, attic insulation becomes soaked in the course of putting out a fire in the home. Because wet insulation loses its R-value and promotes the growth of mold in surrounding materials, it should be removed.
Rodent infestation. Rodents love insulation. It makes great nest material, while also offering a secure and comfortable indoor environment. Mice, squirrels, bats and raccoons show their love of attics with deposits of urine and feces that contaminate insulation and cause terrible smells. Dr. Energy Saver by Arbor Insulation Solutions can solve this problem in three ways: First we seal attic openings to prevent pest access; then we remove contaminated insulation, feces, and all other traces of rodents. Finally, we install new, high-performance insulation to make your attic look and work like new again.
Fire & smoke damage. Attic insulation can be damaged by fire and smoke. Even insulation that appears normal following a home fire can retain smoke odors that permeate through the house. For this reason, we often recommend removing attic insulation that has been exposed to fire or smoke.
Clean, thorough access for attic air sealing. The high-powered vacuum we use to remove damaged attic insulation enables us to totally clean your attic floor. In so doing, we expose all the gaps, cracks and openings that should be sealed to prevent conditioned air from leaking into your attic. This air-sealing upgrade can work with your new attic insulation to dramatically improve your home's comfort, energy efficiency and indoor air quality.
Free Estimates for Insulation Services in Georgia
Schedule A Free Estimate
If you have ever experienced water intrusion in your attic or your home was damaged by a fire or smoke, we recommend having your insulation inspected, removed, and replaced. If you have damaged insulation in your attic, it is likely not performing like it should.
Call Dr. Energy Saver by Arbor Insulation Solutions at 1-866-201-1365 or Free Estimate online to meet with one of our insulation experts today to discuss whether your North Atlanta home would benefit from insulation removal.
Looking for a price? Get a no cost, no obligation free estimate.